Understand the Listing Agreement
When you are ready to sell your home, often you meet with a skilled, knowledgeable agent in your area whose job it is to get your home sold. Once you all have discussed all your needs and condition of your home, you typically are presented with the North Carolina Real Estate Commission's Contract form.
When selling in Greenville, NC or Winterville, NC and you are meeting with me to get a understanding of the forms. I like to break down the Exclusive Listing Contract to any potential seller just as I am about to do here.

Remember, I am not a licensed lawyer. This is my own interpretations of this document. If you need further in-depth analysis I recommend to seek a legal advise of a NC licensed attorney.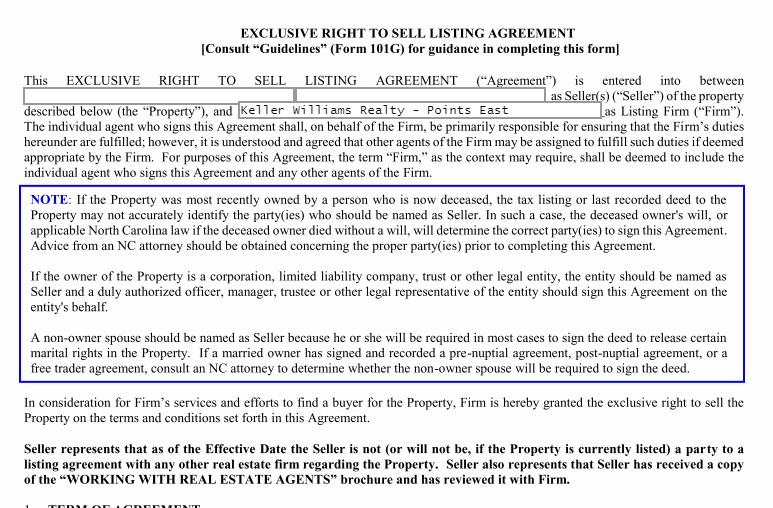 Firstly, The Contract is Between Client and the Firm (not the agent).
This is important to note all around. If you and your agent get into a dispute, you are still liable to the firm. The firm could assign you to another agent, you don't get to necessarily cut your contract just because of a lack luster agent. Therefore, remember to go with a good firm who you know has options. It's the firm that is ultimately selling your home, so know what the firm has to offer you, not just the agent.
Understand that you are "granting" the firm exclusivity to find you a buyer. By signing, you are telling Keller Williams Realty Points East, find me a buyer to buy my property. Even if your neighbor ends up purchasing the home, Keller Williams can still be considered the procuring cause. Unless situations are stated up front, this agreement is exclusive to the firm to do their job. Their job ultimately is to market your home out to the broadest range and to find a Ready, Willing, and Able buyer to purchase your home in agreed upon terms that you as the seller determines.
The document even has a section stating, the property is not currently listed with any other firms, if your home is listed the contract ends this date – and the new firm can begin marketing then this other date. Since the contract is an Exclusive Right to Sell, you are granting exclusivity to the firm to do their job.
Second, Term of Agreement & Property
The contract has a specific term with an expiration date. Typically, it takes 30-60 days to sell a property depending upon the market. Ask your agent and ask the firm in general if you are not sure. If you really are not sure, make the agreement term a week just to get started and decide if you need to renew it later once you and your agent chat a bit more.
Property section is just that, it identifies specifically what is being sold. Mostly in legal terms.
Section 3 & 4: Fixtures and Personal Property
This section is also on the Offer to Purchase Contract too. Why, this is where many disputes take place between a seller and a buyer.
Fixture is something that is Fixated to a wall, ceiling, or built specifically for a space. For examples, let's look at the typical kitchen. So, a built-in microwave would be considered a fixture, same as an oven/stove, dishwasher, etc. The only personal item typically in the kitchen would be the refrigerator, as it can roll away from the wall with only an electrical plug to the wall socket.
Section 3 & 4 goes into many details and examples of fixtures and things that remain with the home. Basically, if it is attached or fixed into the home in some way, it is considered apart of the property to stay. If there is a light, a garden of sorts, or any sort of fixture to the property that you want to keep. REMOVE & REPAIR prior to the buyer's entering the home! Otherwise, prepare to have disputes because if you love it, chances are they will love it too and want it just as bad as you do.
Section 5 : Home Warranty – Will you offer one? Yes or No
Section 6: Listing Price and Terms accepted
Section 7: Commission Rate
Commission can vary depending upon the area, price, land vs house, and frankly offices too. It also varies based on service level. With our office, we are a Full-Service Brokerage, so you get full service. Limited service firms and online offices (deal sights) will vary and offer limited service and charge a set fee. Our fees are variable and usually is a percentage of the sale.

Note the section Fees Earned- By Signing the Listing Agreement, you are not FORCED to sell your home. However, you may still be force to pay the listing firm the commission they are due if they procure you a buyer that has agreed to the terms of the contract stated price.
– You can also transfer or do an exchange of property, and may also be required to pay a commission on that as well.
Basically, this contract is warning you – please don't get cold feet if you are signing the agreement for us to sell your home, that is what we intend to do.
So, If the firm procures you a client and you refuse to sign the Offer to Purchase, and it is at Full Asking Price, Terms set forth in Section 6, you can be liable to pay the firm the full commission set forth.

Basically, if you are not Ready to Sell. Please do not list your home to sell. This will keep you and the firm out of trouble. You are not here to "test the market", we are licensed individuals who want to assist you in selling your home. I just don't want to see anyone paying fees upon a situation where they could have avoided it.
Section 8: Cooperate with other Firms – where we just show the split to the other brokerages.
Section 9: Firm's Duties
This is where the Firm lays out all their duties to the client (you). This is what the firm is responsible, liable, and accountable for when it comes to your property and this contract.
1) Best Efforts to get a Buyer
2) Disclose and offer terms to you (not to others)
3) Disclosure of any and all Material Facts on the Property
4) Help you seek other Vendors / Professional Advice
5) Provide your property to the Multiple Listing Service
6) Seller must agree to the Federal Discrimination Law of the 7 Protected Classes


Section 10: Marketing Efforts
-broken down into online, newspaper, and magazine style classes. Marketing has a section on how you can decide how your home is exposed to the public. Your agent will get into detail on this section.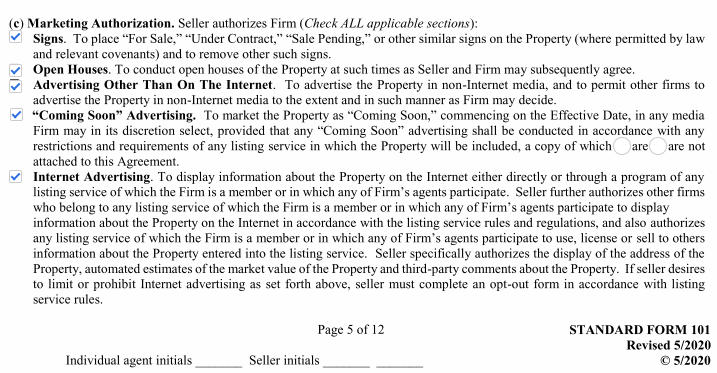 Section 11: Earnest Money
In North Carolina, Earnest Money use to be called Good Faith Money. Now that is commonly referred to as the Due Diligence Money. To take it off the market, sellers seek Due Diligence immediately as that is the money that is non-refundable. Earnest Money is refundable under different circumstances, this section explains that, and your agent will talk about that with you in more detail too.
Section 12: Seller Representations
Your property in the flood zone?
You have an HOA?
Do you keep a Termite Contract on your home?
How long have you owned the property?
Do you owe any liens?
Are you seeking Bankruptcy?
Do you have access to your property by public/private way? (Easement)
Are you currently renting your property out? (Leases)
Have you had an FHA appraisal recently for any reason?
Any assessments owed or recently preformed on your property by City or HOA?
Is the property a manufactured home?
Do you have a Fuel Tank?
Section 13: Seller's Duties
-Fill out the forms provided by your agent: Residential Property Disclosure, Mineral Oil and Gas Rights, Lead Base Paint Form, and/or the Homeowners Association form if applicable to your home.
-Allow agents to show your home / access your property
-If applicable, help agent to obtain your documents pertaining to your property.
-Seller represents that they can Convey the Property
meaning you have no claims or any back known liens, estate claims that would prevent you giving the property to a new owner.
Section 14: Home Inspection – Just in to offer a pre-market home inspection, marketing benefit.
Section 15: Photography and Materials
These items belong to the Firm / Agent or source that paid for them. Seller has no right or usage of these materials unless firm/agent are compensated specifically for them.
Section 16: Additional Terms to the Contract
Section 17: Dual Agency
Same as what is written in the Working with Real Estate Agent brochure. If a agent from the office shows the home and presents an offer, you will be in dual agency with two different agents under the same firm.
If the listing agent wants to bring a buyer, the listing agent is in Dual Agency and must explain to the seller what this entails.
This section is one that needs to be explained in a bit more detail per transaction, then the seller must choose which way they would ideally like to be represented.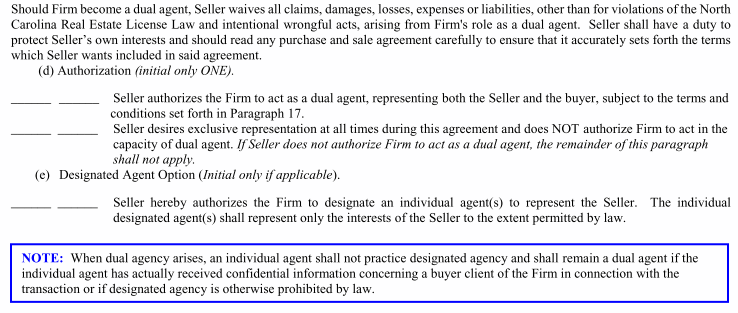 I personally like, "Designated Dual Agency", so you still get full representation and make the most of the firm itself. See if your firm offers this option and have your agent explain it.

Section 18: Mediation
If a dispute arises then this just states you can take the contract to court. It is a legal NC document.
Section 19: Wire Fraud Warning!
READ, READ, READ! If you are planning on wiring any funds you must read this for your protection.
Section 20: Entirety / Changes / Termination to the Agreement
Basically again stating any changes must be agreed upon and this is a legal NC document, so the term is stated based on what the contract states. If you want to terminate, both sides still must agree to it and it needs to be in written form.
Note: This is a Very Short and Rough Break down of the North Carolina Real Estate Commission's Exclusive Listing Agreement. I am not a NC lawyer, and any disputes, questions you may have please seek the advice and counsel of a certified lawyer. This is only here to better assist in a basic understanding and is an expressed opinion of myself.