Happy New Year! Here is to 2021 and may this year be better than your last and prosper in all things you set your mind too. Now before we jump into the real estate market of 2021, let us look back over December and a look back over the Year to Date totals of 2020 when it came to the Pitt County Market as a whole.
As we mentioned in last month's article and market data, we thought we would see a continual decline of newly listed properties. Well my thoughts held true; the overall number of listings did continue to decline across the market. In Pitt County the number fell to only 223 actives as of December 20th. Number of homes sold were 188 as of the 20th of the month and newly listed properties for December were 153 across Pitt County.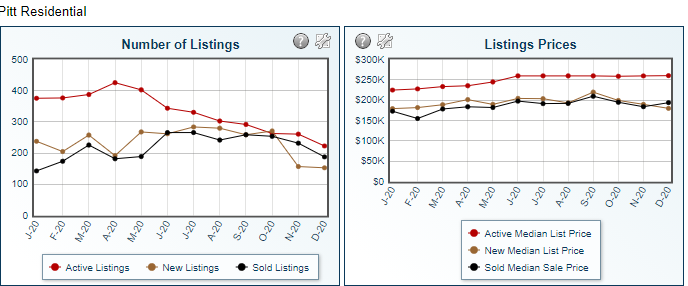 What has held steady surprisingly to me is the active median list price. If you look at the chart it truly has held steadfast at an average of $260K. Well thanks to new constructions and the decline of homes being listed, plus the older inventory that hasn't really moved much. The median price of active homes hasn't moved in the past months. Mostly due to the homes that are in market ready condition that are being listed are sold so quickly that the inventory buyers are fighting for are the newly listed homes, and not so much the older inventory. This also is noted true by watching the black line and brown line of sold and new inventory and how they actively follow each other. So, there is your proof of this theory.
While the active median hasn't moved, the sold median price point was that of $194K and newly added listings were only that of $180K. I expect all those to be gone within days if they are not already under contract to close!
Absorption rate has declined down to just 30 days. As mentioned previously, if all listings stopped today this is the rate of inventory we must sell before we are entirely out. We are at a single month's worth, when a stable market is considered to have 6 months' worth.

With the absorption rate being so incredibly low and overall inventory levels, price demands are at an all-time high. Sold to List ratio for Pitt County has hit an overall 99.9%. Most homes right now are getting over list price offers. However, you still have some that are not market condition or need a bit of TLC. Therefore, the overall data is only 99.9%. I figure this number to potentially increase even.
Now the Average Days on Market have continually dropped, and we are now at 21 days. However again, this is deceiving since it considers the properties that have continually sat on market. Therefore, the median number gives you more of an accurate range of how fast homes are truly moving in this market. The median day on market is only 4.

Now that we have broken down Pitt County, let us take a more in-depth look into that of Greenville, NC and the Winterville, NC Markets!
In Greenville, NC as of December 20th we had 111 active homes on the market. The number of sold properties were 108 and newly listed homes of December came in at 99. Meanwhile in Winterville, NC we had 49 active homes. 53 homes had sold in December up to the 20th and 34 had been added to the inventory.
Now in Greenville, the listing price data was the same as that of Pitt County as a whole. That tells me Greenville may have had a big hand in driving that data. Winterville's statistics were slightly different but not by much.
Absorption rates in both Winterville and Greenville were slightly lower than that of Pitt County being 28 days. The Sold to List ratio though of both Greenville and Winterville are above 100%! So, if you have a home in Greenville or Winterville for sale that is market ready, expect 100.4% or more of an offer value! Great news for sellers!
Average List price in Greenville for December came in at $354K. We probably had some higher end neighborhoods gain a few extra listings. The average sold though is $216K and that is about right in what we have been seeing.

Winterville NC doesn't quite have the higher end neighborhoods yet, so the development has been more need based. The average list price for December was $272K which seems closer to what we should be expected to see. The average sold price in Winterville also came in very close to Greenville at $217K.
The last summary report I want to look at is the price point movements. 92% of the Pitt County Market is still selling below $349K price range. Only a total of 8% of activity accounts for the 300-349K. While 12% activity accounts for the 250-299K price range. The activity though jumps when you look at 249K and below. 20% of all activity is accounted for 200-249K and 23% is accounted for 150-199K. So over 40% of the whole Pitt County Market is still in the 150-249K price ranges. However, as we can see these figures are moving up. Therefore, 2021 will be interesting to follow.

Now, with it being the end of the year we can get a clear overall look of how different Pitt County, NC Market of 2020 was over that of 2019. The Average list price for 2020 Year to Date came in at $217,000. Over that of 2019, we had prices only of $197,000. So, $20,000 increase of property assumed values. Average sold prices also give us this figure with 2020 being at $202,000 and 2019 only at $184,000.

How fast properties sold also demonstrated the median days on market in 2020 averaged out to be 7, while in 2019 it was 14. So, in 2019 it took two weeks to sell a home while in 2020 it only took a week. Considering how strong December is, I think we will see 2021 bring in some incredible new figures! Here is to your New Year and to the Pitt County Real Estate Market being the best year yet.
When you need Real Estate help buying or selling your next home in Eastern, NC. Please consider contacting me, and let me Earn the Right to be YourNCAgent! Your specialized source of Greenville, NC and Winterville, NC Real Estate and the surrounding cities and towns!