Welcome to chilly February here in Eastern NC. As we know being the first of the month, we get a chance to look back on the data for January when it comes to the Real Estate Market for Pitt County.
As I write this article, we have seen several things happen here recently. A bunch of Reddit users have upset Wall Street Hedge funds by shorting stocks such as Game Stop and AMC Theaters. Another round of stimulus money may be on their way shortly. Plus, the Dow Jones has fallen to its worse week since October. While these changes typically are short-term, traditionally speaking they could be early signs of a recession. So, the future question will be, how if any will it affect our housing market in let's say 5-7 months. This is something to ponder for sellers who may be on the fence about selling, best time is always the present in my opinion if you can make that happen.
Now focusing back on the statistical data for the Pitt County Area and specifically looking at Greenville and Winterville as well, we see that the market continues to tighten overall. Limited number of homes are being placed onto our market to stabilize demand. Therefore, in Pitt County the absorption rate or known as the rate of inventory has fallen to roughly 28 days-worth of inventory left. Remember, it is important to note that this is inventory in all price categories. You can see by the chart that the rate just has continued to decline steadily as new inventory is sold as quickly as it is added to our market. However, the one thing that surprises me is that Sold to List Ratio has dropped. Seems, someone may have in fact received a deal or two that has lowered that overall statistic across the market. So reader, do not dwell on this statistic.

Now that we have spoken about the overall absorption rate, take a look at the number of listings to see how truly these two lines correlate with one another. As of today, Feb 1st we have 128 homes actively listed and 449 pending or contingent to be sold. Last month alone, 182 homes were added to the market, and yet we only have 128 now available. Also, of these 128, I would dare to say several are overpriced, bad condition, and well not going to sell at the price they are stated and probably been on market for 30+ days.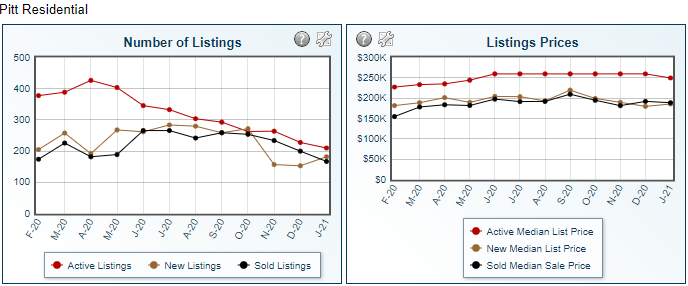 Therefore, the ones that are correctly priced in good and market ready condition are going to sell, and if you look at the price category. The gap has closed in significantly over the past couple of years with buyers willing to potentially pay a bit higher to get the home they truly love.
This chart brings us to the break down in prices for Pitt County. Currently the average list price for Pitt is 311K which is up from 242K last year this time. The medium list is 250K up over $25,000 of last year. Well, since this is all price categories, not all the higher priced homes are getting full price offers. Therefore, you must look at the sold values. Average Sold is up 206K by $11,000 over last year at 195K.

You can also see that the Days on Market have dropped significantly to 35 from 53 overall. However, you should be expecting an offer within a week vs last year this time at 19 days. Truly, you should be expecting an offer in a few days (if not hours) if you are priced correctly.
Now let us break down Pitt and look at Greenville, NC and Winterville, NC separately. If you are living in Greenville, right now the active homes on market are only 64. Average list last month was 340K up from 265K that of last year this time. Medium list is 235K which is slightly up again 222K over last year. Average sold though tells us this year people are getting 205K vs that of 191K. So truly most are getting $10K to $20K more for their homes than they may have gotten over that of last year!



Winterville is not an exception from these general rulings. If you live in Winterville, frankly you probably are in a newer home for the overall area and so may command a higher price point. Well, right now you only have 21 homes to choose from in Winterville. Yep, that is ALL. Average list price in Winterville tends to be around 284K up from 233K last year this time. With new construction, a lot of building supplies were impacted with prices rising. So, these figures do not surprise me. And again, like mentioned before the average sold property was 220K up $10,000 over last year.

In general, we can say that homes in our area have generally increased $10,000 on average and in some areas even more. Now, it is important to break down your own home by price category and see where you stand regarding that increase. If we look at prices, homes that are priced under 300K still make up 85% of the sold inventory for Pitt County. Homes priced 300-350 encompass 6% of the inventory. 350 to 400K it drops to 5% of the market total. Therefore, still most of the activity is under 300K, yet it is creeping up in value.
We can see this in the pending homes. So, on the pending side 227 homes last month were pending. 82% of the majority was under 300K however, 10% of the market total was between 300 and 350K. So that is now a significant increase on the price category moving up to $350K and under encompassing 92% of the total market.

So, in summary, we are still in a very strong seller's market with multiple offers and tightening inventory. If you see a home you truly must have, talk with your buyer's agent about a strong offer and how to win in this very competitive market. If you do not currently have an agent, buying or selling. Please speak to me about the broken-down price categories and how you may succeed in this market wherever your goals may be!
Buying or Selling in Eastern North Carolina, please contact me to see how I can assist you. Have a family member or relative looking to buy or sell in another State or Area? I would be glad to assist them for free to find an agent best suited for them! I've helped families in Florida, Virginia, Wyoming, South Carolina, California, and Tennessee find homes and/or agents to help assist them in buying and selling. When you think of buying or selling, let me earn the right to be YourNCAgent!