Today I wanted to bring up a new released rule / regulation from the North Carolina Real Estate Commission and the Ethics board of the National Associations of Realtors (NAR). The practice of the buyer introduction letter, or sellers have dubbed it "Love Letters" are highly disapproved of. Seller agents are being urged not to accept any form of these letters, as they can be viewed as discriminatory towards the Fair Housing Act.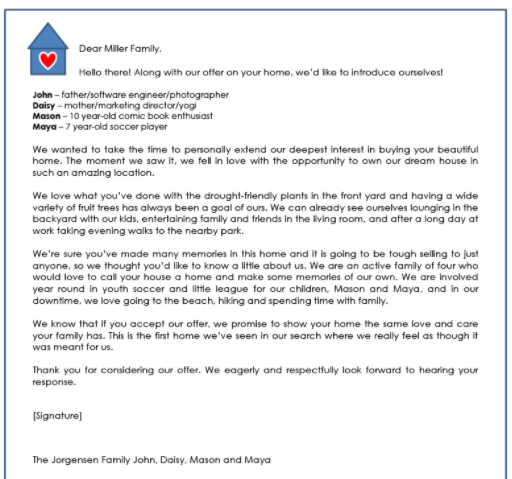 Buyers have used these letters to help their offer stand out towards the seller and why they should be "chosen" as the next home owners, often trying to provoke the feelings of the seller. These tactics come into play strongest during Seller Market's, where inventory is extremely low and competition among buyers it at it's peak. Therefore, NAR ethic's committee has come forward to try and stop this practice.

At first, these letters seem truly harmless. Buyers are all trying to provoke feelings, however when the buyers are describing things often times they end up disclosing personal information such as Race (photo of family), Religion (Christmas Mornings by the fireplace), or Familial Status (here are our two boys). So depending upon how the buyer actually ended up writing the letter, the buyer could be accidentally using "protected class characteristics" as a basis for the seller to accept or reject the offer.

So what does the Fair Housing Act Say:
No discrimination based on Race, Color, Religion, Sex, Handicap, Familial Status, Sexual Orientation, Gender Identity, and National Origin. It is Equal Opportunity to All.
(Here is the statement from the Listing Agreement)

This statement above is telling Seller's that the agency and agent will be acting in behalf as to not discriminate.
So basically, the Real Estate Commission is urging sellers to base their decisions on the stated numbers and facts alone. Not on emotions, and for sellers that can be difficult for some clients who are highly attached to their homes. Often times I had sellers specifically ask for letters to know which clients loved their homes, and were not going to tear down those three walls their grandfather built.
So because of this, the National Association of Realtors (NAR) has asked for agents to do the following:
Educate your clients about the fair housing laws and the pitfalls of buyer love letters.

Inform your clients that you will not deliver buyer love letters, and advise others that no buyer love letters will be accepted as part of the MLS listing.

Remind your clients that their decision to accept or reject an offer should be based on objective criteria only.

If your client insists on drafting a buyer love letter, do not help your client draft or deliver it.

Avoid reading any love letter drafted or received by your client.

Document all offers received and the seller's objective reason for accepting an offer.

(NAR: Seeking Effective 2021)
I have been watching this for a while and have admitted to using this tactic myself with buyers and sellers in the past to win and negotiate the best deals for our own clients.
In my own personal dealings, in no way do I feel my sellers consciously discriminate. However, I see the point of the Real Estate Commission that this practice can lead to potential discriminatory practices and could place my sellers or buyers in a potential bind for litigation purposes.
Sellers still can accept any offer they wish truly, as agents we just need to know and understand your reasonings behind it so that we can document it.