"I'm not sure I'm ready to Sell"
I get this quite often; Sellers are not always sure when is the right time to sell or scared to be homeless if they sell too quickly. Well, let us go over these things and a few options to maybe help you better understand when the right time to sell maybe for you!
First, I'm not sure if it is the right time for the market. Maybe It'll get better in 4 months?
I wish I had a magic 8-ball for how many times I have heard this question in Eastern, North Carolina especially. We are in a unique area, with certain economical features that kind of keeps us in a strange bubble effect – not always following a national statistic. Therefore, this makes it even harder to predict when it comes to "looking ahead".
However, the best indicator is mortgage rates, regardless! What has been the trend on the mortgage rates in the past month? Are they going down, are they moving up? This alone will tell you the buyer's buying power and how much you may be expecting for selling now vs in the future potentially. As I am writing this, mortgage rates have been at an all time low of being in the mid 2s. They have finally begun to creep up, and now have been spotted in the mid 3s.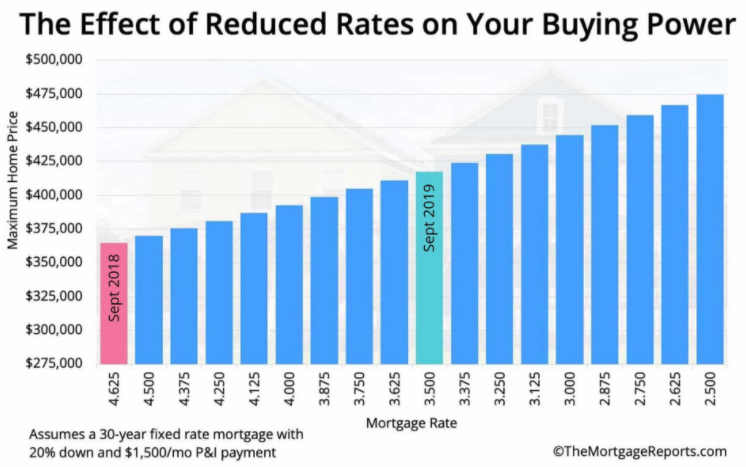 A 1% increase doesn't seem like a lot to us, however in buying power that has decreased a buyer's power by 8-9%. Wait, Seriously? Yep, a small increase in your interest rate can entirely throw out entire price ranges of homes that you were considering just a month ago. That is why so many buyer's have a strong sense of urgency when it comes to making their selection on your home.
Let's look at an example the New York Times did when it came to the national rates beginning to increase. You can see based on small jumps how much home is affordable to these buyers, and well how much sellers can truly command. Yet, as rates change so will the banks mentality too on lending. Therefore, sellers will have to correct as needed.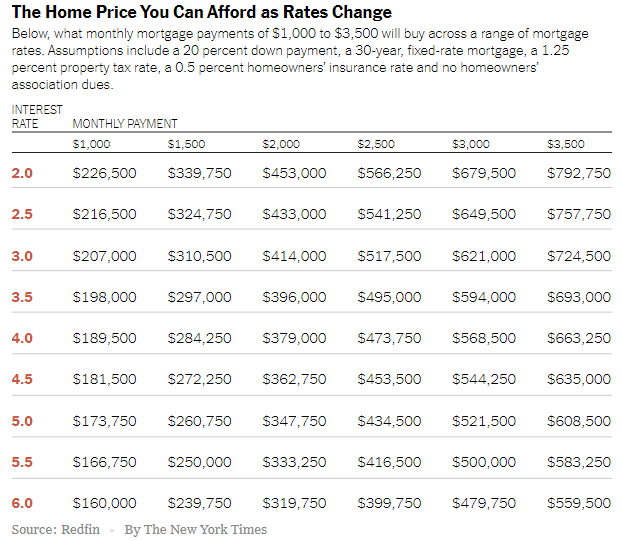 So, if the buyer was seeking your house today at $300,000 with a 3.0% rate and their max payment is 1500 monthly, they could technically get it easily and pay their closing costs. However, as the seller you have decided to wait to sell. While waiting, interest rates continued to rise, they reach a full 1% by the time you are ready to list. That same interested buyer now offers you $280,000 and asks you to pay 3% closing costs.
Therefore, by waiting to sell. Sellers are risking money on the table due to interest rates naturally want to increase. Buyers will be looking for lower priced homes; so, as a seller, you will end up reducing your home now to chase the available buyers. If this trend continues, this is where we see the flip take place naturally turning this incredibly long "seller's market" into a "buyer's market".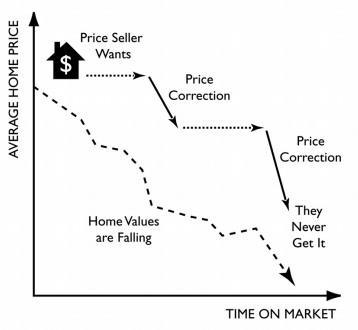 When you are typically in a stale market or priced above your range of buyer's. This is when we see homes having to price correct to 'catch the market'. Ultimately, the reason behind all of this goes back directly to the mortgage rates at that time. Mortgage Rates will always drive the market and the buyer's ability to get any sort of funding for the properties.
Second, I don't want to sell too quickly since I do not have anywhere to buy.
I had this one come up recently and we came up with a great solution. During this market, buyers want to get the best deal payment wise on their new purchase, and of course as a seller you want to net the most possible. Well, why couldn't you ask for a rent back.
Simply stating, the buyers buy the property and rent it back to you as the seller till you are ready to move on. I had a recent case where the seller was not looking to move till late August. We saw what was taking place in the market and listed the home in February. As offers to the home came in, we added the stipulation that the home must be rented back for the seller till August. Well, we found the perfect buyers who did just that at a very reduced market rate, and my seller has now netted the most for the property.
Since we do not know where the rates and situation could be in August, we took the best approach given the data and realized it was better odds to sell earlier and buy later to potentially maximize on the market circumstances.
Also, if it was "Worse Case" client just rents longer. Very rarely have I ever had a situation that has come to this, but even the one I did have where a client needed to move into another rental for 4 months still came out 10K higher than if they had waited. The neighbor even listed their home on the street 3 months later and ended up reducing their property by $30,000 to sell it, while my clients took a full offer listing price.
My House isn't really Market Ready…
Honestly, depending upon the market and the conditions of the sales, your house could be a total tear down and still be market ready.
We as agents help to determine that for you, and most items people feel could be keeping them off the market are just delaying them and are not items to "make or break" a deal. Therefore, if this is a concern of yours as a seller, contact me today to let us discuss if it really is something that must be addressed ahead of time, or could potentially wait.
In conclusion, netting the most money and selling is all about timing and following the mortgage rates. Well, right now is truly the best time to sell if you have been considering. Let's chat to see how much money I can net you before the mortgage rates get too much higher.
If you are buying or selling in the Greenville, North Carolina or Winterville, North Carolina markets or surrounding towns. Be sure to schedule and appointment for your free consultation to see what things I have to offer for my clients. I would love the opportunity to earn your business and trust. Let me Earn the Right to be YourNCAgent in the Eastern, North Carolina Markets!