Easter is around the corner, so that tells us it is the first week of April. So, let us look back over the month of March when it comes to the Real Estate Market for Pitt County. As we dig through these numbers for Pitt County, we will study Greenville and Winterville as they are the hub spots for where the market data is heading.
Last month 227 homes sold in Pitt County, which is a good increase over Feb by 100 homes. Now on average, we had a total of 124 active listings, down from Feb again by 40 homes. This just means that we had a lot more go pending during this time. Newly added we had a total of 269 new listings hit our market. This was a great bump to our overall inventory. Now, remember, with this hotter market for sellers these new listings typically do not last long if they are indeed priced correctly.
Pulling data today (April 2nd), we have 511 homes pending in Pitt County. These numbers are expected to close anywhere from 30-60 days out. In addition, now we only have 122 active properties listed for sale.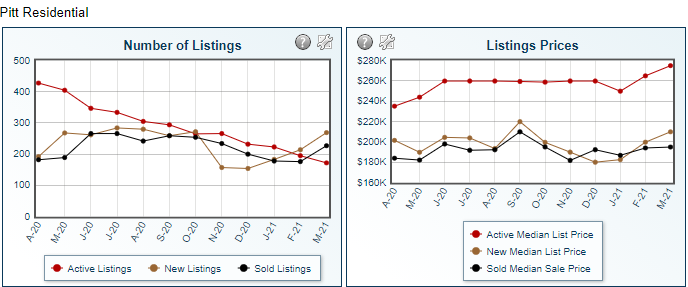 Also, look at the listing prices from our last two months. If you read my blog post last month and have paid any attention to the news you would have seen articles and stories on the cost of building materials inflated. Speaking to several local builders this past month, they have had to increase their prices by as much as 20% in some cases. I do not see this ending anytime soon, given that new builds are some ten months delayed. Therefore, with new construction on the rise due to material and labor costs, people will start to see value again in higher-priced homes and can see the higher ticketed homes re-entering the market if they have not already done so.
Since we have already spoken that today we only have 122 active homes in inventory, you can note that our absorption rates are still below the one-month market to around 22 days worth of inventory left. Sold to list ratio has crossed the 100% mark overall for the entire MLS board. This is insane, so if you are a buyer, be prepared to go into a home to pay over the list price in certain categories. Last month I sold 5 homes on the seller side, all the homes I had listed had been in multiple offer scenarios, it came down to the best terms of which the buyer won the contract.

Average days on market right now sit at 25 overall. I do not focus on this figure as much as I do the median days on the market which right now is 3. Why is that number high, especially when hearing from people, "Oh, I sold my house within hours"? Well, it takes about 3-6 hours for the offers to start rolling in, then sellers typically ask for all offers a day or two after listing to get their highest potential. So, to sellers, yes, they knew about the offers within a day. However, the market looks at when the money exchange and initial paperwork are completed. Therefore, if you are a buyer, it is CRITICAL to being ready the moment you know it is the potential home for you. When I say ready, have that pre-qualification in hand and your agent ready to submit an offer at a very fair price. You may be submitting it for more than the actual list price.
The market is all in favor of sellers still, I know we have been speaking on this for some months now. Sellers are dictating how they are accepting offers and the terms they are accepting offers on. If we look at Pitt County this time last year, we had double the amount of inventory we have today! As we already mentioned, list prices are higher across the board given the material costs of goods. The median list price is at $275K over last year at $233K.

Now it all comes down to average sold prices truly, right? Well, again as list prices move up, so are we seeing these Sold Prices moving up just as quickly! You can see the Avg sold and Median sold are rather close in value than over the previous year. Only a $10,000 value difference, and it must do a lot with the fact that most homes selling are truly in the $250-180 value range. Seems to me that is where most of our inventory levels are. However, look at the average list prices and the fact that we are in multiple offer scenarios. Looks like our Market Average may be over 250K potentially before we know it!
Now, let's look at Greenville and Winterville respectfully.

So for Greenville and Winterville, I like to do something a bit differently and break down the sold & pending properties by price points. This gives you a more in-depth look at what truly is happening in these markets and what your competition may be selling or buying. It basically spells out how many potential buyers are in that category. So here is the chart for Greenville:

As mentioned last month, the most inventory is moving under the $350,000 range. However, this month we see a larger increase overall to the $450K mark. We have been seeing an increase in job growth and in turn this is bringing in new clientele and families seeking higher priced homes. Again, therefore I like these charts since you can see this trend clearly and see that data even correlates to the pending/future closings. You can also see that most of the activity overall though truly is around the 100K-300K mark. On the pending side it goes up to 350K even and this is because of the overall limited inventory. We just don't really have any inventory left under the 100K mark. So, the overall question, does this data also line up with Winterville?

Yes, it most certainly does even with Winterville's smaller inventory amount. Currently Winterville has a lot of newer construction taking place and it is being built up month over month. Therefore, you can see that the activity is truly taking place around the 150k-300k Mark. Although, look at how many 300-349K homes are sold/pending in Winterville. That is where the market is heading. Those numbers will be reflecting in our data over the next two months as we pull more comparable properties and data. For sellers, that is great news as it will continue to force our market higher. So if you know of anyone who has been on the fence about selling, this is definitely the time to list.
Our market is continuing to move up as supply is dwindling. Interest rates may be creeping up slightly into low 3s this week, however I do not see our market in Greenville or Winterville taking any sort of hit. We do not have the supply, if anything some clients would suggest we could use a hit. However, the number of renters and relocations taking place to our area suggest that maybe nationally they'll be a hit but locally we may stay smooth sailings ahead.
Needing to Buy or Sell in Eastern, North Carolina. Please consider giving me a call and let me earn your right to be YourNCAgent. I'd love to share more in-depth analysis on what you could be earning by selling or what you may be obtaining by buying your next home with me!